Lookout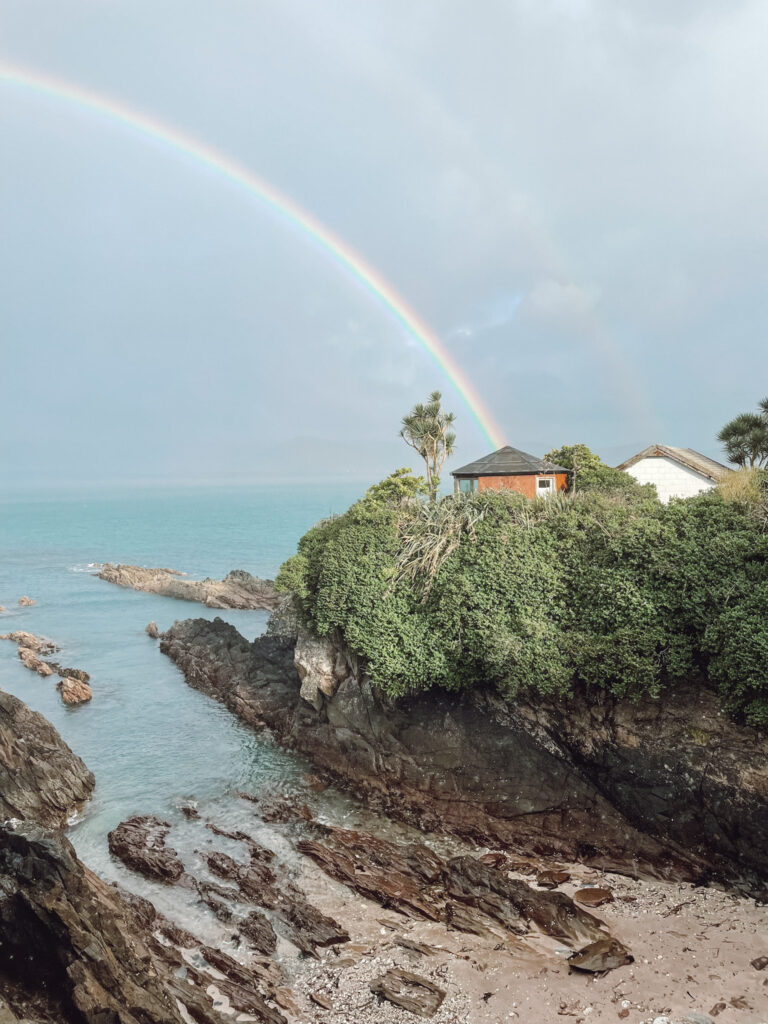 Welcome to Atlantic Bay Rest's Lookout!
Book it to stay at the edge of the world. If you are adventurous and like to be on the sea, surrounded by nature, you found the perfect place!
This is not a five star accommodation but more like a million stars out of your window.
If you're used to camping, you will love this as it's glamping style! Please keep reading for more information…
Open for bookings since July 2023, the spacious wooden hut is perched on top of a cliff and has a million dollar view over the sea and the mountains.
Inside, you'll only find a small double bed for one person or two in love, a drawer chest, a comfy chair for your morning coffee staring at the ocean and hooks on the wall, so this is simple life at its best. Some sides of the hut are mostly windows to give you that incredible view.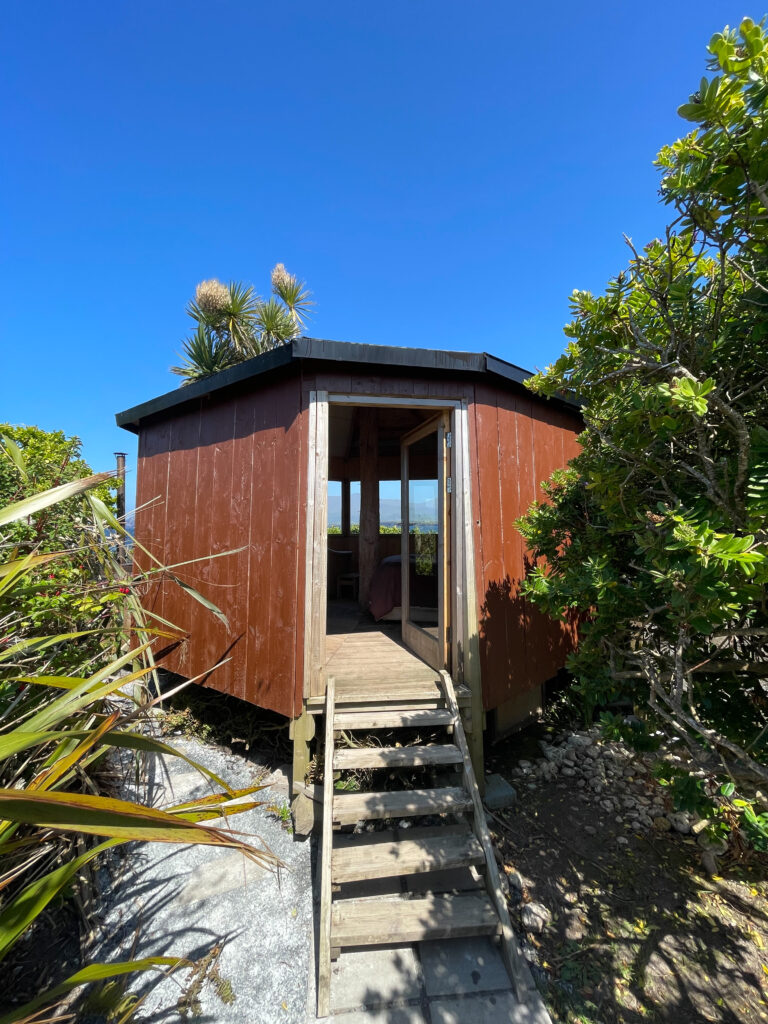 The outdoor hot shower is on the way down to our private beach. You must be able to walk down stairs. The toilet is about one minute walk away and has a small sink outside. You have no electricity in the hut but you can charge in the Galley, which is a common room for chilling and eating. There's a small kitchenette set-up with a kettle, toaster, microwave, and basket to make the dishes in the outside sink. You likely might want to watch some Netflix on the TV or jam on the guitar in the evenings. This is also where you will find the WiFi. We kindly ask that you leave this shared space as, or even more, tidy than you found it so that all can enjoy it.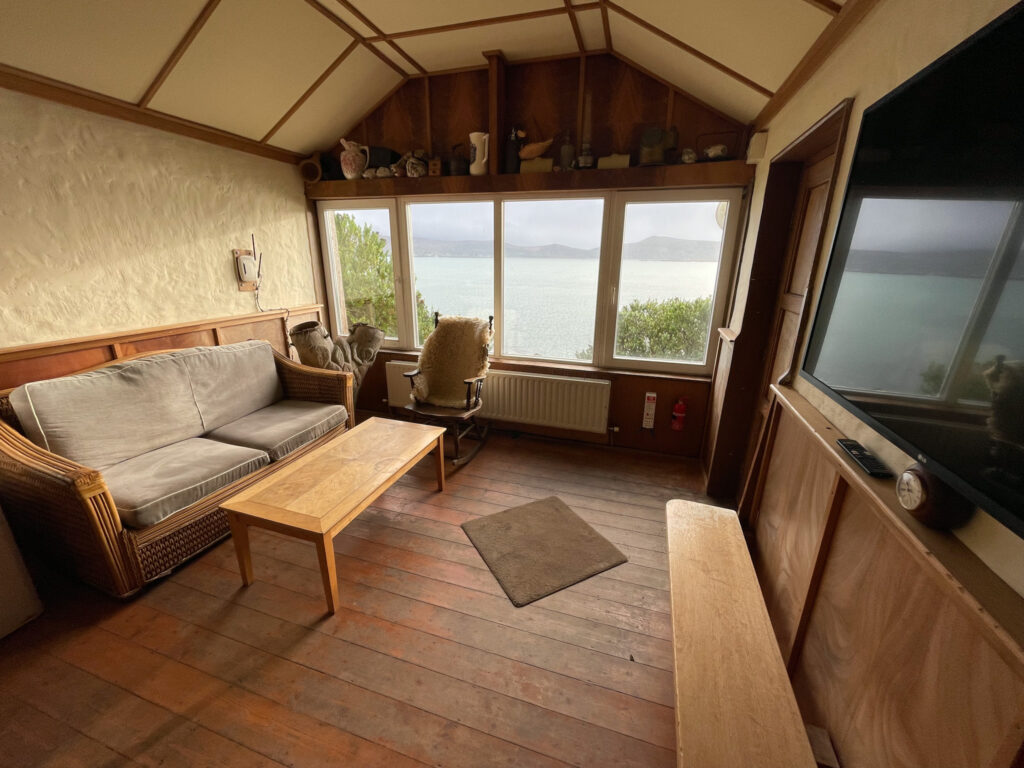 As you can see in the gallery photos, Atlantic Bay Rest and all its buildings are located right on the sea and surrounded by nature. We recommend this accommodation especially to people who love nature and the outdoors. It's a great spot to hike, do water sports, disconnect and relax, read or even write books, be creative… It is wild, raw, rustic and unpolished but we are confident that you will love it if you are the right person.
For an extra fee, we have a sauna atop the private beach that fits up to 4 people (minimum 2 hours notice needed for booking). Please note that this is only an optional extra as we are not a spa but an accommodation with incredible views and nature.
One car park is allocated to you.
---
min. 2 nights / seasonal
---
Testimonials for the Lookout
It takes a little doing to get there, but the location and scenery here are stellar and worth the effort. I really appreciated that Laura made the extra effort to temper our expectations by letting us know the particular unit we booked was rustic and basic- we're campers and there more for the locale than anything else. It's not hard to get there, but the suggestion I would make is that because the road is (…) narrow (more than just Ireland narrow), you might want to bring in food, snacks or whatever else you might want rather than planning on going in and out of the property a lot. The beach is wonderful and the addition of a hot outdoor shower is a real treat.
Johnmichael, USA, July 2023
Truly spectacular location with a great view. The Lookout was simple and perfect for what I was looking for, and better than the photos inside and outside. The scenery must be seen to believe it. I wish I had booked to stay longer. The hot shower outside on the way to the private beach was amazing. Imagine a hot shower where you can see and hear the waves just a few meters away. A lovely experience and yet still offered great privacy. There is a sauna on top of the steps to the beach which was a nice optional extra and I recommend a visit. I took a lot of photos and was pleased to find a good Wi-Fi signal to let me share them, and a beautiful common room with more outstanding views. (…) I look forward to a return visit. Thank you, Laura, for the memories.
Brian, UK, July 2023