Eagle Nest
If you're looking for a peaceful getaway to unwind and enjoy nature, keep reading about Atlantic Bay Rest's room under the roof with a wonderful sea and mountain view…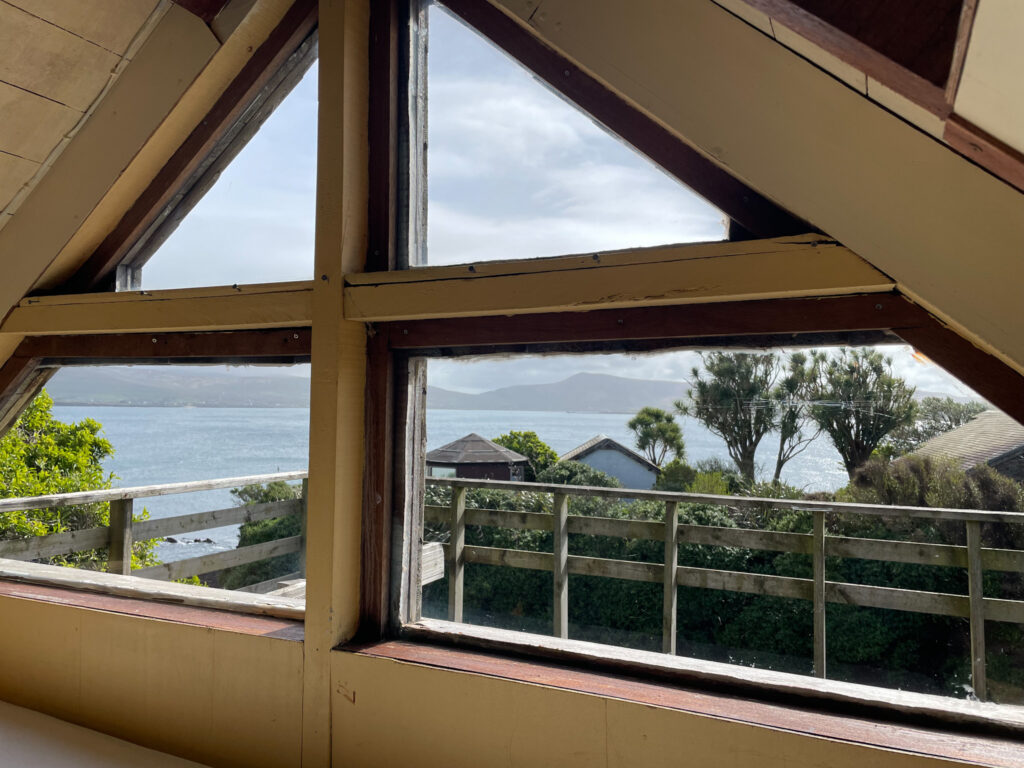 The Eagle Nest is a small room built underneath the roof in the house Laura (the caretaker) lives in. It was a kids bedroom for the owner's family. It's simple but comfortable. There are two single beds and one day bed. The day bed can be used as a third bed but it's a little smaller so we recommend it for a child or a short person.
It has an amazing view out of the big windows (they do not open); and from the small window (does open), you can see our private beach and hear the waves and birds.
There's a small sink with an old mirror in your room and a small closet. The shared bathroom (with Laura and her husband) is downstairs. It is very small but functional with a shower and a toilet. There's also a hot outdoor shower on the way down to the beach if you'd like to try this fun experience.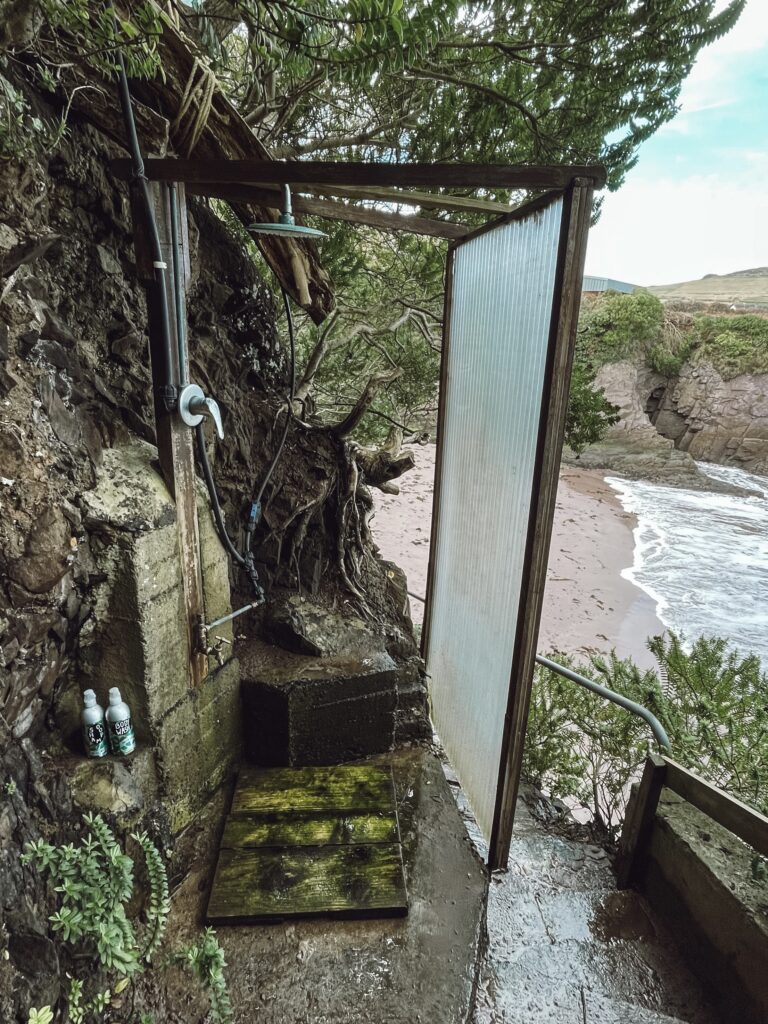 The outside platform that you see in the photos is not currently accessible.
Check out the sunrise view from the "Galley", which is a common room for chilling and eating. There's a small kitchenette set-up with a kettle, toaster, microwave, and basket to make the dishes in the outside sink. It is right across from the Dream Suite. You likely might want to watch some Netflix on the TV or jam on the guitar in the evenings. This is also where you will find the WiFi. We kindly ask that you leave this shared space as, or even more, tidy than you found it so that all can enjoy it.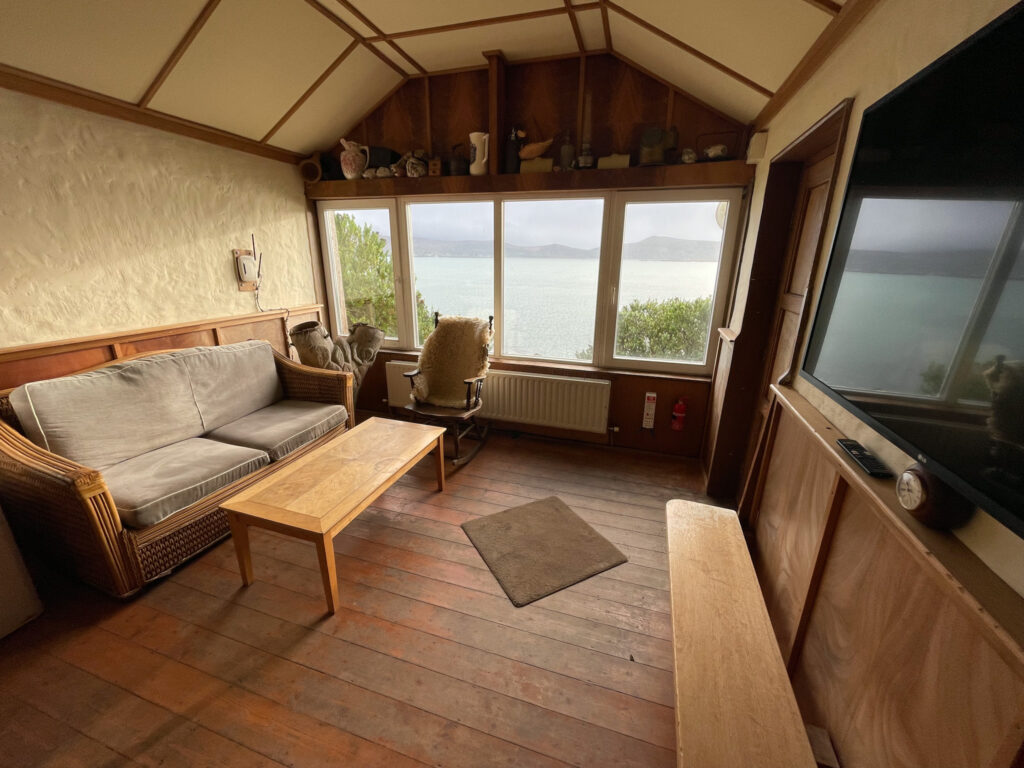 Extra information about the Eagle Nest
PLEASE NOTE: a fair warning to tall people as this under the roof and you must get up and down steep stairs to get in and out of the bedroom. They should be climbed always facing them. We do not recommend booking this room if this would be an issue for you or if you have young children. The "door" of the room is a trap door. And once again, this is a room in the host's house so if you'd prefer a place to yourself, check out our other cabins.
For an extra fee, we have a sauna atop the private beach that fits up to 4 people (minimum 2 hours notice needed for booking). Please note that this is only an optional extra.
One car park is allocated to you.
As you can see in the gallery photos, Atlantic Bay Rest and all its buildings are located right on the sea and surrounded by nature. We recommend this accommodation especially to people who love nature and the outdoors. It's a great spot to hike, do water sports, disconnect and relax, read or even write books, be creative… It is raw, rustic and unpolished but we are confident that you will love it if you are the right person.
---
min. 2 nights
---
Testimonials for the Eagle Nest
Absolutely beautiful stay! Exactly like described and perfect for adventurous travellers. Small space in the attic but worth it for the private beach and ocean views. Property has other airbnbs on it but everyone was very kind and respectful. Super clean! Absolutely no garbage anywhere! Amazing outdoor shower, something to experience for sure! You can hear the people in the main home almost like in an apartment but it didn't bother me. I would recommend taking a taxi to get in, or renting a car if you're good with the tight roads of Ireland. Everyone is super kind and welcoming and I would 100% stay here again and recommend it to all adventurous travels that love hiking, walking, beautiful views and cold plunges into the ocean. There are also free kayaks to use that they are happy to help you with! Absolutely lovely. Thank you Laura!
Barbara, Canada, July 2023
It's one of those places you prefer not telling anybody about it – because it's so magical, secluded and lovely in every way. There is a special place for every guest and you stay on a wide area that allows privacy and communal moments. The whole estate is a labour of love by its owner, that grew for years and on a sunny day you feel like staying in the lush jungle of the tropics, with your own beach, birds and butterflies all around. It's about the outdoors and the good moments "simple life" has to offer. Next to that: Laura is a lovely host and promptly available for all the needs the guest may have – including free kayaking.
Tanja, Germany, June 2023
There are no words to describe Atlantic bay Rest. It is a timeless place that directly gives you a sense of serenity. Sleeping with the sound of waves, wind, and birds is so relaxing. The "private" beach is too pretty with its protected cove. It is a site that respects nature with all its wooden buildings. Stop for more than one night.
Gilberte, France, April 2023