The Bungalow
Welcome to Atlantic Bay Rest's authentic and rustic wooden bungalow right on the sea with private beach. Book it to stay at the edge of the world at one of the most beautiful spots on the Dingle Peninsula. If you are looking for a peaceful rest nestled in nature, this is it so please keep reading…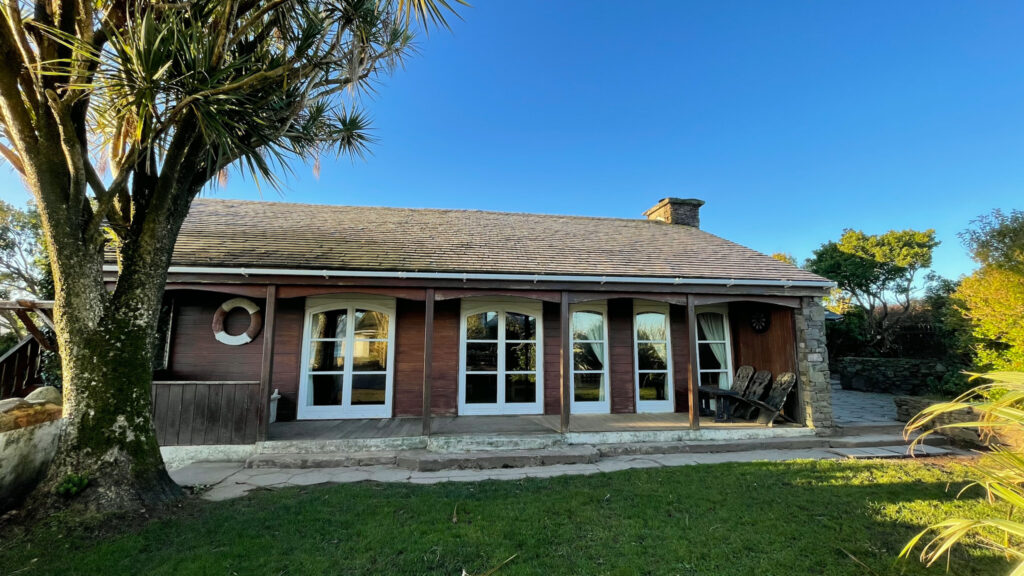 The bungalow was built 100 years ago then renovated in the 90's by Peter, the current owner. Peter is from Germany and bought the property in the 70s. Thanks to his background in wood export, he used exquisite taste and strong beautiful woods and furniture imported from Ghana and Germany to give a second life to the previously abandoned property. Peter still resides on the property. It's a very special place to us, Peter and the caretakers (Laura and her husband), that we are happy to make available to you. Click here to meet us or click here for more info about the history of Atlantic Bay Rest.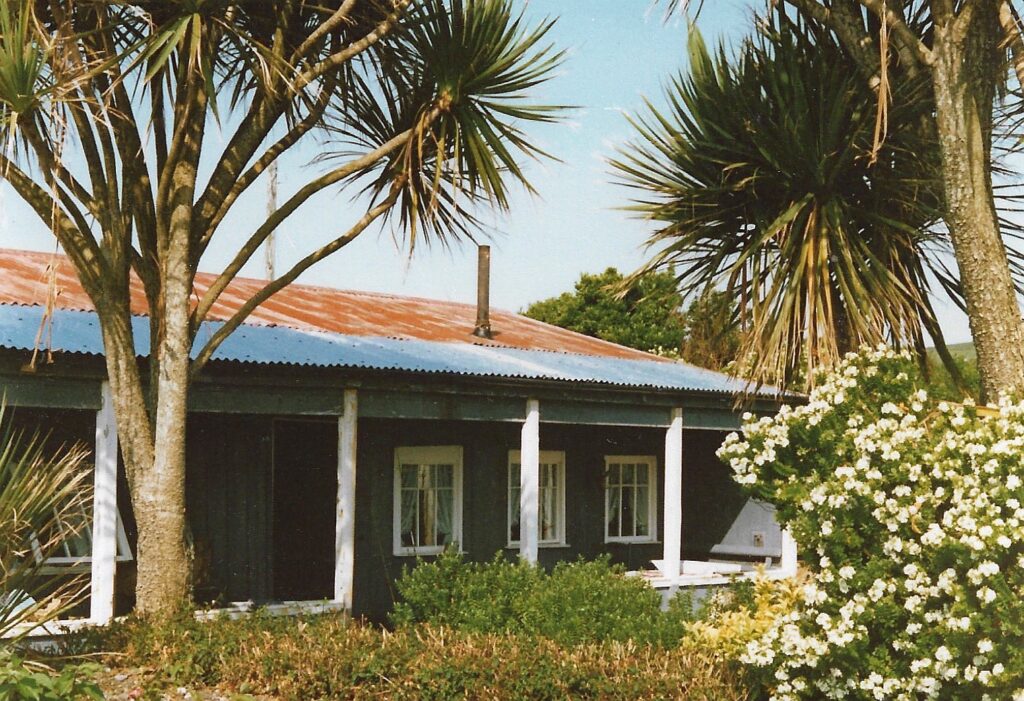 The main areas include a living and dining room, as well as a simple but functional kitchen. There is central heating on a timer throughout the bungalow (except in the kitchen – keep that door closed in your own interest to preserve heating). Please note that this is an old building so it's chilly by nature year around.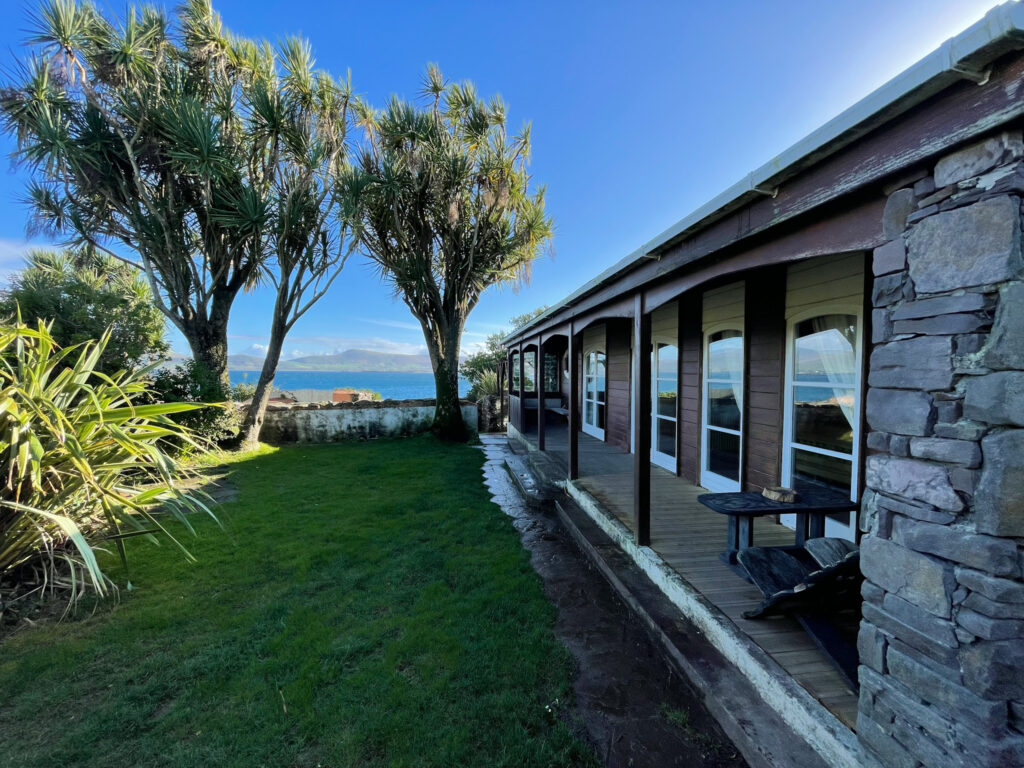 The hall to the bedrooms and bathroom starts from the living room. The Master (king size bed) and Honeymoon (double) rooms on the left have a garden and sea/mountain views. The bunk and twin rooms on the right have vegetation growing outside the windows and are often visited by small wild birds.
Amenities
Dishwasher
Fridge-freezer
Oven and stove
Microwave
Kettle
Toaster
Cooking basics
Coffee plunger
Baby's high chair
Baby's cot (free but must pre-book!)
Selection of games for adults and children
Natural shower gel, shampoo and conditioner
Hairdryer
Linens provided
Bathtub & shower indoors and shared hot outdoor beach shower
Free parking (2 allocated spots)
Recycling bins and compost on site (by parking area)
Smoke alarm and fire extinguisher
Sauna atop the beach for up to 4 people (min 2 hours notice – extra fee)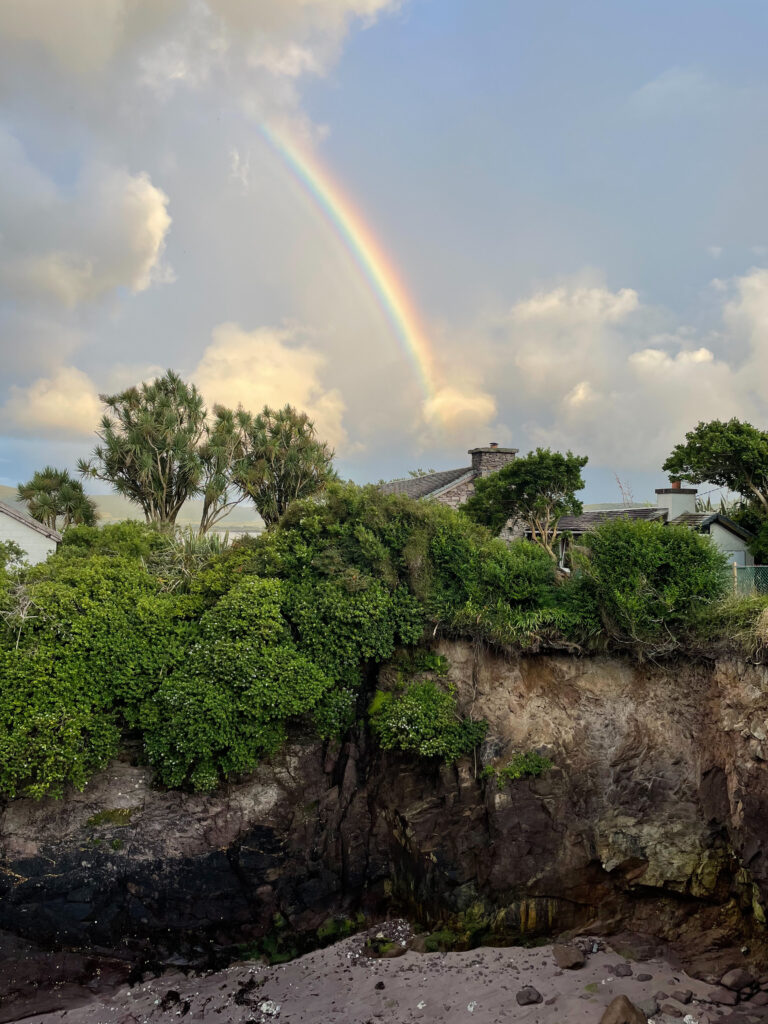 Atlantic Bay Rest and all its buildings are located right on the sea and surrounded by nature. We recommend this accommodation especially to people who love nature and the outdoors. It's a great spot to hike, do water sports, disconnect and relax, read or even write books, be creative… It is wild, raw, rustic and unpolished but we are confident that you will love it if you are the right person.
Atlantic Bay Rest has a private beach with incredible views and topography (view our gallery for more). You must be able to walk down stairs and rocks to access as we are atop gorgeous cliffs.
Extra information about the Bungalow
PLEASE NOTE: The Bungalow is part of several listings that are on the same property. The bungalow and the Dream Suite are attached with completely separate entrances. But be aware that there is a potential for noise communication between both spaces and we ask our guests to be respectful of each other. The Dream Suite is available for booking with the Bungalow, as well as our other accommodations for total privacy on the grounds (aside from staff) for bigger groups (family reunions or retreats).
Check out the sunrise view from the "Galley", which is a common room for chilling and eating. There's a small kitchenette set-up for the guests of our other listings. Bungalow guests, you, have a full kitted kitchen in the bungalow. But you likely might want to watch some Netflix or jam on the guitar in the evenings. This is also where you will find the WiFi. We kindly ask that you leave this shared space as, or even more, tidy than you found it so that all can enjoy it.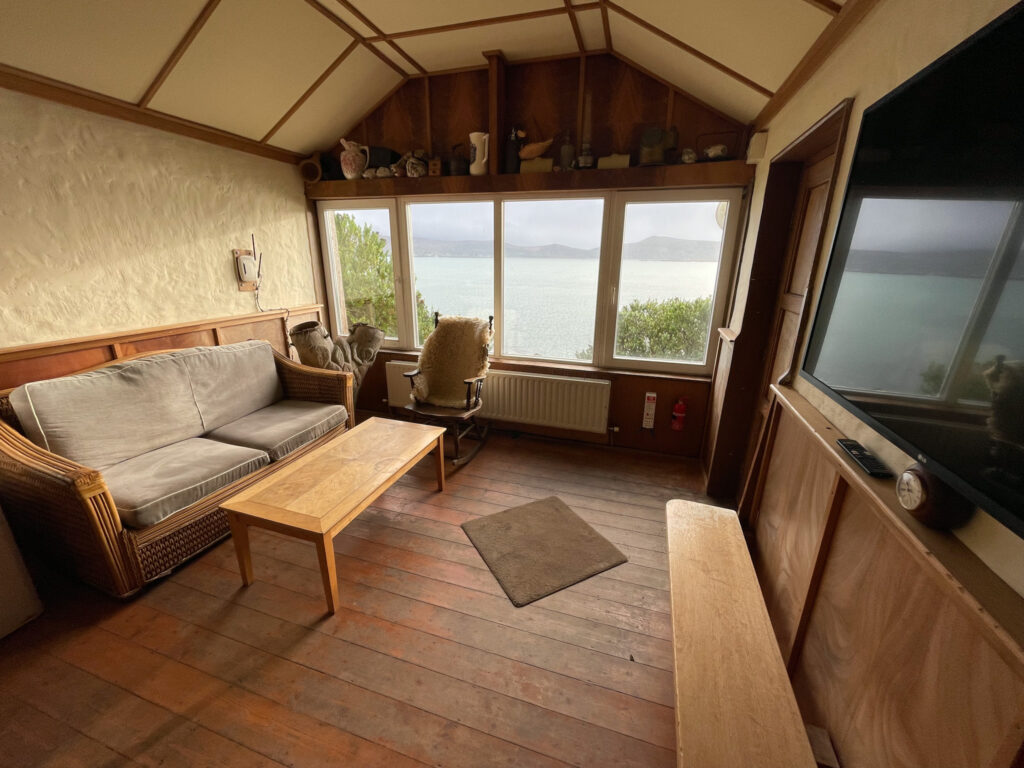 We kindly ask you to please respect the home and owner's belongings, especially the art and antiquities are to be treated with care. We have immense gratitude for guests who show respect for the home and leave it neat upon departure.
To protect the environment, we provide hygiene products and dish washing products that are kinder to the environment which we refill in bulk to avoid unnecessary plastic. We also clean and disinfect with the same type of products. And, of course, we recycle and have a compost on site.
The Bungalow is a dog friendly accommodation but please inform us of your intention to bring your pet (extra charge) and make sure you review and are happy to abide by the pet rules (click here to read them).
Please ask first if inviting outside guests. Visitors parking will not always be possible on site but there are options a short walk away. Meals or such gatherings with family or friends from or staying in the area usually will be welcomed but parties such as stags for example would be refused.
---
min. 3 nights
---
Testimonials about the Bungalow
We can't say enough about this magical place! It is exactly as described; a rustic, comfortable cabin on a spectacularly beautiful piece of land with a private beach. We kayaked almost every day, fished, swam, and climbed over the rocks at low tide. We watched the sun rise over the mountains and enjoyed nearby Ballyferriter and Dingle. We also did a horseback riding tour and an excellent archeological tour while there. It was a perfect home base for our family of 5. We would love to return and can't praise it highly enough! PS Don't worry about the hedges. We were in an SUV and we were fine.
Cindy, USA, September 2022
This place is one in a million. The views are truly spectacular, the accommodation is quirky and feels like home. The private beach is the best kind of beach, sandy, rock's for climbing, arches and stacks to explore, crystal clear water to swim, kayak and stand up paddle board in. Laura was extremely helpful and you could tell she truly cares about how much you enjoy your holiday. We stayed here 6 years ago on our honeymoon and hoped we could bring our family one day. A dream we have now realised and will hopefully continue to realise every year!
Sinead, UK, June 2023
Laura and Ricky (and their four legged friends Captain and Bruno) are the perfect hosts. They have a fantastic offering for people looking to enjoy the outdoors/ chill out and enjoy the location. And what a setting, it is the most beautiful backdrop with it's own beach. Hoping to come back with the family next summer!
Eamon, Ireland, November 2022