Dream Suite
Welcome to Atlantic Bay Rest's ensuite cabin. Book it to stay at the edge of the world at one of the most beautiful spots on the Dingle Peninsula. The Dream Suite is a cute cabin right on the sea with stunning views of the mountains across the bay and the sea. Keep reading…
The entrance is up a small flight of stairs up to your private semi indoor balcony with a great sunrise view. Another door gets you into your cabin. Inside, you will find your bedroom (with a double bed) and some storage space including a hanging closet. There's another door to your small ensuite bathroom with an electric shower, a sink, and a toilet.
It's a simple and small yet cozy space with a heater on a timer and an electric heater in case you were cold in winter. Please see the photos to get a better feel of the space.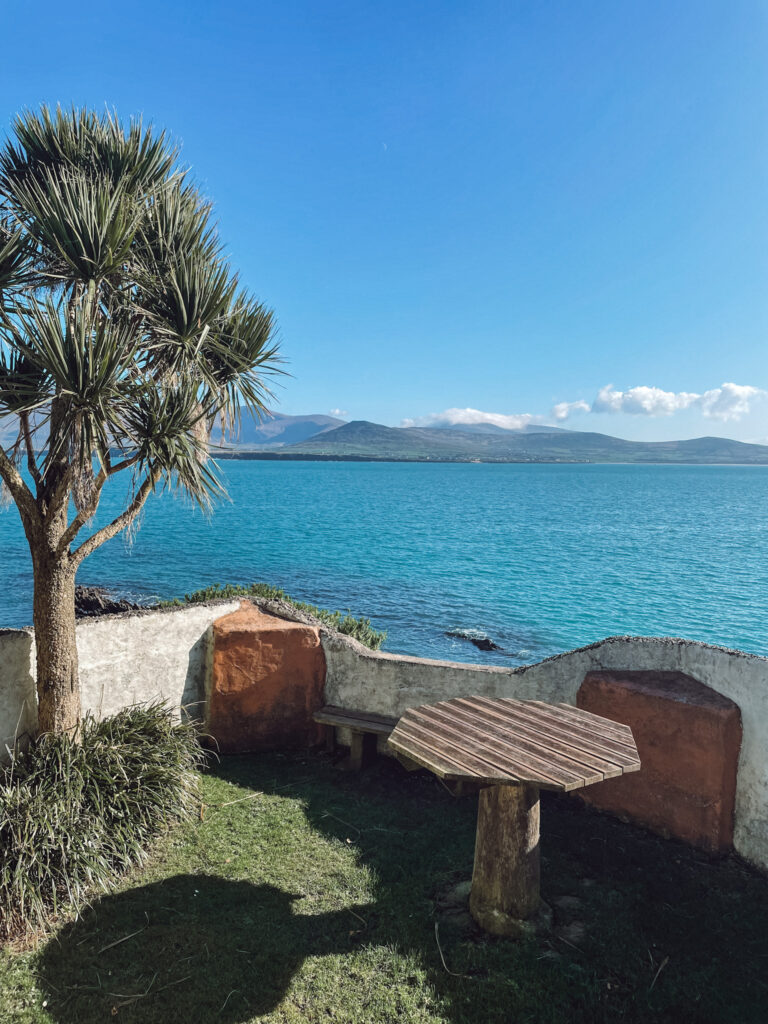 Extra information about the Dream Suite
As you can see in the gallery photos, Atlantic Bay Rest and all its buildings are located right on the sea and surrounded by nature. We recommend this accommodation especially to people who love nature and the outdoors. It's a great spot to hike, do water sports, disconnect and relax, read or even write books, be creative… It is raw, rustic and unpolished but we are confident that you will love it if you are the right person.
Check out the sunrise view from the "Galley", which is a common room for chilling and eating. There's a small kitchenette set-up with a kettle, toaster, microwave, and basket to make the dishes in the outside sink. It is right across from the Dream Suite. You likely might want to watch some Netflix on the TV or jam on the guitar in the evenings. This is also where you will find the WiFi. We kindly ask that you leave this shared space as, or even more, tidy than you found it so that all can enjoy it.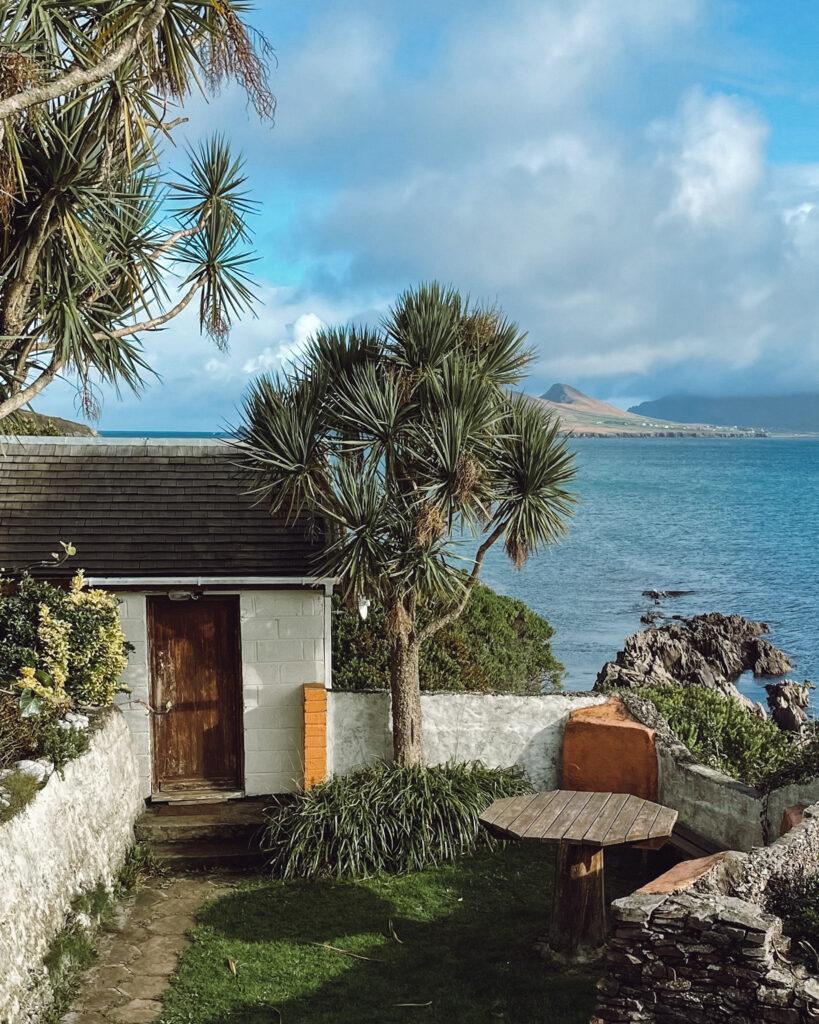 For an extra fee, we have a sauna atop the private beach that fits up to 4 people (minimum 2 hours notice needed for booking). Please note that this is only an optional extra.
One car park is allocated to you. It is completely free to park at Atlantic Bay Rest.
Your pet is welcome under certain pet rules. Please disclose in advance that you are bringing your pet (extra charge) and read the pet rules to make sure you're happy to abide by them before booking.
The Dream Suite is part of Atlantic Bay Rest and its other accommodations. The Dream Suite is attached to the Bungalow with completely separate entrances. But be aware that there is a potential for noise communication between both spaces and we ask our guests to be respectful of each other. As the Dream Suite is built under the roof: a fair warning to very tall people! If you don't mind glamping, you might then prefer the Bird Nest or the Lookout.
---
min. 2 nights
---
Testimonials about the Dream Suite
Absolutely stunning location and unique setting. So much charm and history here! Laura was really friendly and reached out proactively about a sauna, which ended up being the highlight of our entire trip. When coupled to jumping into a cold, private ocean it was so, so relaxing. Loved it so much that I thought it should be double the price. Know that this is for the kind of traveler who likes things more rough around the edges. Not a standard hotel, lol…but absolutely what I was looking for.
Ginny, USA, July 2023
This was, quite honestly, the best Airbnb I have ever stayed in. I can't say enough good things about the property: you have a private stretch of wild Atlantic coastline all to yourself (with a few other guests), you fall asleep each night to the sound of the surf, and there even a private beach with beautiful rocky outcroppings to explore.
There are a few accomodations on the property. We stayed in the dream suite which was plenty cozy and comfy and very clean. There is a lovely enclosed porch type room which was perfect for our coffee and a "picnic" dinner, staring out at the sea.
Definitely recommend the sauna experience. You will sleep so well after some dry heat followed by a cold dip in the sea! And while we did not use them, there are kayaks as well.
Laura was super kind and helpful. She spotted us when we were feeling unconfident in navigating the tiny road turn around and shared good recommendations. It's clear she and her husband really love the place.
Nora, USA, May 2023
This spot is a little hidden gem of paradise. Ultimately it is for those of us who appreciate the natural surroundings with those vibes hitting the accommodation. For us it was perfection, we loved the surroundings, the natural layout, the solitude and the easy living no frills vibe, Our bedroom was the 'Dreamy suit' and it certainly lived up to its name, spotless throughout and breakfast in our little porch looking out over the sea. If you're looking for a chill-out weekend without interruption literally on the sea with private access to your very own beach but also with the options of some of the best hiking trails with breathtaking views/Beaches all round then this is the spot. Very close to BallyFritter, BallyDavid, Sleahead drive and Dingle. We'll definitely be back. Laura was a super host, very friendly and informative of the area.
Elaine, Ireland, February 2023